Contributors: Zara Collings, Bethany Lord, Iona St Joseph, Eve Cobbett & Ian Harkin
Home is where the heart is… By Zara Collings
For the first time since 2019, Vitality Netball Superleague teams threw open their doors as fans poured into home arenas, finally able to support their local teams in person. Saracens Mavericks, Leeds Rhinos, Loughborough Lightning, Strathclyde Sirens, Wasps and Manchester Thunder were among the first teams to welcome their army of fans back, with five out of the six home teams showing that the crowd really is the eighth player and managing to get over the line. Mavericks kicked off Round 3 with a truly thrilling clash against London Pulse, holding on to clinch a two goal victory over a Pulse side that certainly had their half time oranges. Picking up her second player of the match in only three rounds, Kadeen Corbin took to court in both circles, switching to Goal Keeper in a last ditch attempt to hold on against a Pulse shooting circle who maintained incredible accuracy in some tight pressure situations, recording 91% accuracy across the match and you can catch up with this action in her full match report below.
Returning to the home and away format did bring its challenges, as the league reverted to some matches not being streamed and accessible with Sky. With two matches on Youtube and a further match being shown on Sky Sports Mix, this certainly felt like a good few steps back from the comprehensive coverage fans enjoyed last year. Social media teams did step up, ensuring they posted a constant stream of updates and results on both Twitter and Instagram. However, this is something that fans will simply have to get used to for the remainder of the season and is also something that makes it tricky to truly give an all-encompassing view of Round 3's action. Our own Iona St. Joseph made the journey across Scotland to watch Strathclyde Sirens welcome Leeds Rhinos to the Emirates Arena, where a doggedly determined Rhinos side pushed past Sirens to secure their first victory of the season. The same Rhinos side went down to Team Bath later in the round, despite the five time champions missing a number of key players, including England Captain Serena Guthrie who is still being rested following the recent international Quad Series.
With those ruled out suffering from a mixture of injury and illness, it is still unconfirmed who will take to court in Round 4 in a number of days time. When looking at our stats leaders of the week, it is hard not to be blown away by the accuracy of Proscovia Peace, who is beginning to truly find her groove and role within the Surrey Storm team. Putting up 62 goals at a staggering 98%, she provided Storm with the solid anchor they needed to push an electric Thunder side all the way. Looking to the leaderboard, Mavericks and Thunder remain solid on three wins from three, with Loughborough Lightning also sitting on 100% win rate after two games. Wasps, Pulse and Sirens are all separated by goal difference, with one win from three matches. These three teams will be looking to really challenge for a top four position and will be keen to secure some more points on the board early in the season, to ensure they do not fall too far behind the rest.
---
Stats leaders of the week:
Most Goals: 62 Proscovia Peace (Storm v Thunder)
Most Feeds: 31 Gia Abernethy (Sirens v Rhinos)
Most Offensive Rebounds: 7 Joyce Mvula (Thunder v Storm)
Most Defensive Rebounds: 4 Annabel Roddy (Dragons v Thunder)
Most Deflections: 8 Ella Powell-Davies (Wasps v Stars)
Most Intercepts: 6 Tash Pavelin (Bath v Rhinos)
---
Injuries:
Ellie Rattu unavailable for Mavericks v Pulse through illness.
Felicitus Kwangwa unavailable for Thunder v Storm.
Shadine van der Merwe unavailable for Thunder v Storm through injury.
Emma Barrie unavailable for Sirens v Rhinos through injury.
Sigi Burger unavailable for Sirens v Rhinos and Rhinos v Bath through injury.
Betsy Creak unavailable for Bath v Rhinos through injury/illness.
Serena Guthrie unavailable for Bath v Rhinos as she continues to be rested following the Quad Series.
Rachel Shaw unavailable for Bath v Rhinos through injury/illness.
Hannah Passmore unavailable for Bath v Rhinos through injury/illness.
Kerry Almond unavailable for Thunder v Storm through injury.
---
Results and Match Reports:
SARACENS MAVERICKS 53 def LONDON PULSE 51
Match Report by Bethany Lord
With Saracens Mavericks coming out with two wins on opening weekend, and London Pulse coming off what had to be the game of the round defeating Bath, this match was set to arguably be the match-up of the weekend. Well, it certainly provided, but perhaps not in the manner we expected. The first quarter began goal for goal – neither team looked like they were really taking hold of the game. Despite being equal on the scoreboard, it felt like Mavs had the advantage – they were playing solidly and the connections down court were looking much stronger than last week, compared to Pulse who were having a tough time getting it into the circle. It felt like the Pulse we saw last week, with that drive and hunger to beat Bath, hadn't shown up to this match. Their centre-court was particularly struggling to move the ball down the court, and you really got the feel they were missing Ellie Rattu (out with illness) – Michelle Dekker was unable to provide that structure and leadership they needed throughout the court. Pulse's struggles eventually caught up to them, with Mavs pulling away in the last 5 minutes to end the first quarter 8-16.
What worked?
Pulse made several changes heading into the second quarter, and it worked – they came out looking faster, more dynamic, and just hungrier. Scholes into WA was a move that had a big impact, her work off the ball was game changing and that cut and drive was infallible. Their changes in defence led to a stronger defensive set up in front of the circle to help out the GK, in an attempt to combat Mavs GS Venter, who was having a blinder of a game. Pulse kept Mavs to only 1 goal for the first 7 minutes of the quarter but couldn't sustain the pressure, with Mavs stepping up to the challenge and wrestling back control, ending the quarter 20-27 in their favour. The third quarter took us back to the Pulse of the first quarter – sloppy passing and passages of play, and they simply looked like they'd lost their fire. The Pulse defenders were letting Mavs GA Corbin have a field day as they doubled up on GS Venter, which is just something you can't do against a GA of Corbin's calibre without suffering the consequences. Their delivery into the circle was poor, and we saw the effect of experience (or a lack thereof) on the game. Pulse was inconsistent, whereas Mavs were continuously grinding and just so much more in control then they were last year. They still have that flair that we all know and love, but this year it feels controlled and skilful, a tool in their arsenal, rather than a desperate last effort bid to gain ball. Mavs were looking slick, systematically tearing the Pulse side apart, and the quarter ended 32-44 to Mavs.
Where was it won or lost?
In the context of this game, 12 goals felt like too much to ask from a Pulse team that looked like they were struggling to find their feet in the match. The quarter started much the same as the previous one ended – Tchine was playing well in GS but they just couldn't get it to her, and it looked like there was a lack of trust in the attacking end. But it was the change of Tayla Honey to C and three quarter time that set us up for a cracking 4th quarter. She brought that leadership and structure into the midcourt that Dekker had failed to provide, opening up space in attack and giving Pulse exactly what they needed to get the ball into the circle. With 8 minutes to go, Pulse had brought the margin back to 6 goals and it began to look like they could really turn it around – we were in for a hell of a 4th quarter. The constant grind from Pulse was relentless and intimidating, as evidenced by Venter's misses at crucial points, something we're unaccustomed to seeing from the usually unflappable GS.
With 4 minutes to go, Mavs were shaken, moving Corbin to GK and Essam to GA, but nothing could stop this Pulse side – except themselves. We saw some great play and stunning intercepts from Pulse (the intercept from Odeogberin with 1.20 on the clock was one for the highlights reel), but it was their own play that let them down in the end, with a number of 'coach killer' errors in the dying minutes of the quarter turning over the ball at crucial points. Their impressive fourth quarter push came too late, with Mavs coming out on top 51-53. Whilst Pulse didn't have the greatest match, their fight back at the end was impressive and shows exactly what this team is made of. If there was another 30 seconds left in the match, you get the feeling that they probably would have won it. Several unforced errors (footwork, not wholly within the circle, incorrect playing of ball) lost them some key opportunities at crucial moments.
But a 10 goal turn around in the context of this game, against a team like Mavs, isn't something to shrug off. They've certainly shown that you can never count them out and take your foot off the pedal, they'll keep fighting right until that final whistle blows. Their start cost them the game, but if we can see that 4th quarter performance (albeit a bit cleaner) for a full 4 quarter effort, they're going to be almost unbeatable. Wasps will want to watch out next week, as after Pulse suffered a disappointing win to Lightning in Round 1, they came out with a vengeance against Team Bath in Round 2 and will certainly be looking to repeat history. As Kadeen Corbin said in her player of the match interview, Mavs need to learn how to push on and not relax when they think the game is won – you don't know what the other teams can turn around and do. But they were slick for most of the game, much more controlled and skilful than last year, yet still with that exciting flair they're known for. The Corbin sisters are pairing well with newcomer Venter, and we're starting to see the effects of the majority of this squad having been together for a number of years. If they can keep this up and keep improving throughout the season, they'll certainly be gunning for top 4 contention.
Standout Player?
It was the battle of the GS's. Liv Tchine, despite not getting as much of the ball as she would've liked in the first 3 quarters, has clearly been working on her strength & holding and it has paid off. Once her midcourt fully get the hang of passing it into her, she'll be frighteningly dangerous – not only is she a strong and accurate shooter, but the creative play she has is difficult to defend against (if you haven't seen that pass around the back of the post by now, you're missing out). Venter was outstanding for Mavs, proving that she's not just able to hold, but can be dynamic when needed. Any player that can force Funmi Fadoju out of GK is a force to be reckoned with. Something she will want to watch out for is her play under pressure, as she missed a few critical goals in the final quarter and was lucky that Pulse made their own errors and couldn't convert. But overall, an outstanding performance. Special mention has to be made of Tayla Honey, who despite only playing in the final quarter, was a key factor in Pulse coming as close to winning as they did. Providing structure, opening up space, and creating a wonderful to watch partnership with Scholes, her injection into the game really turned it around for her team.  
Saracens Mavericks 
Ine-Marie Venter 43/49 (88%) Kadeen Corbin 10/12 (83%) Chloe Essam 0/1 (0%)  TOTAL 53/61 (87%)
Feeds: 40 (S. Corbin 15) Gains: 11 (Quashie 6) Penalties: 37 (Gibson 10)
London Pulse
Olivia Tchine 42/45 (93%) Sacha McDonald 7/7 (100%) Kira Rothwell 2/4 (50%) TOTAL 51/56 (91%)
Feeds: 42 (McDonald 12) Gains: 10 (Pechova 4) Penalties: 42 (Pechova 13)
Player of the Match: Kadeen Corbin (Mavericks)
---
LEEDS RHINOS 45 def STRATHCLYDE SIRENS 43
Match Report by Iona St. Joseph
Strathclyde Sirens returned to the Emirates Arena for their first home game in two years, taking on Leeds Rhinos in Rhinos' first game of the season following the postponement of their round one fixture due to Covid. Sirens started with the same line-up that won them the game against Wasps last week, and with a home crowd behind them for the first time since pre-Covid games were a thing, it felt like they were ready to show the netball world what they could do. Both teams will be vying for a top four spot this season, with Rhinos anxious to prove that they can build on last season's success.  With the absence of South African international Sigi Burger, out due to illness, new recruit Amy Clinton was in the starting line up, making her debut for Rhinos, so fans were excited to see how the new goal shooters would fare after the departure of Donnell Wallam at the end of last season. This game felt like a good opportunity for both of these sides to stamp their mark on the VNSL season, and with a strong Sirens side taking on a Rhinos team who had managed to retain a core roster of players from last season, it was too close to call.
What worked? 
This game was so evenly matched on paper that it's hard to pick a particular stand-out point from the statistics alone. Close in goals, gains, intercepts, rebounds, deflections and unforced errors, without watching the game you would have been hard pressed to know where the differences lay.  For Sirens, they continue to work on their processes, and when you see it go to plan, they really light up the court. Gia Abernethy was an absolute workhorse in centre, creating fantastic space in the attacking third for Sirens. Her match up against Rhinos captain and centre Jade Clarke was brilliant to watch. Two fantastic athletes, matching each other in speed and strength; a real testament to the excitement and skill of the sport.  The Glasgow side didn't make it easy for themselves though, and were let down by simple, yet costly errors. Held balls and misplaced passes meant that despite a 12 – 10 lead at quarter time, they were 24 – 22 down going into the second half.
Goal shooter Bethan Goodwin's movement along the baseline was what helped Sirens get on the front foot in the first quarter, with her drives opening up space in the circle, but it didn't take long for the Rhinos defensive pairing of Vicky Oyesola and Tuaine Keenan to shut her down.  Rhinos looked strong on court, and had the first game advantage, with no analysis available from the previous week. Although they have kept the core of their team, with Clinton making her debut at goal shooter up against one of the league's most prolific goal keepers in Towera Vinkhumbo, there were elements of the unknown.  The Rhinos defensive end put on a good show for fans, with Oyesola picking up five intercepts for her team. The penalty count was one of the few stats that was in favour of one team more than the other; Rhinos chalked up 56 penalties to Sirens' 37, but it was that consistent pressure that, in the end, won them the game, despite a caution for Keenan and a warning coming the way of replacement wing defence Emily Hollingworth.  The battle of the goal defences was fantastic to watch, with Oyesola's opposite number Emily Nicholl also picking up five interceptions for her side, and taking home the Player of the Match award at the end of the night. 
Where was the game won and lost? 
Sirens took Abernethy off in the second quarter, with Claire Maxwell replacing her at centre, but they subsequently struggled getting the ball into the shooters, allowing the Rhinos defense to capitalise on held balls and mis-timed feeds.  Rhinos also made changes after the first quarter that made an impact to the game, switching Brie Grierson to goal attack, Amelia Hall on the court to wing attack and Rhea Dixon heading to the bench. Grierson's confidence and movement in goal attack really helped opening up the shooting circle for the Leeds side, and they won the second half by four goals.  Jade Clarke's experience showed throughout, providing support in both defense and attack; she finished the game with 28 feeds and 2 intercepts. Despite taking a fall in the third quarter and leaving the court, she was back on at wing attack in the fourth, showcasing her strength and skill for the game. 
Although it was evenly matched throughout, Rhinos did manage to push out to a 10 goal lead in the fourth quarter. The shooting combination of Grierson and Clinton worked well, and their defensive pressure across court meant they turned over a lot of ball, capitalising on Sirens' errors. The final quarter of the game got fans off their seats. Sirens had lost the third quarter 8 goals to 13, ending the third quarter down by 7 goals at 30 – 37, but with the injection of Abernethy back into centre and Kelly Boyle coming on at wing attack for Beth Dix, they switched up a gear in the final 15 minutes. Boyle gave a great injection of pace into the game, and her combination with Abernethy added an element of speed to the Sirens' attack. With two minutes to go, it looked like Sirens might be able to mount a comeback, but they gave themselves too much to do and not enough time to do it.
Standout Player? 
There were so many good match ups across the court! Abernethy and Clarke were brilliant to watch, Clinton had a fantastic game in her Rhinos debut, and Tuaine Keenan looks like she's going to be the thorn in the side of many goal shooters this season. For me though, it was the battle of the goal defences that stood out in this match. Nicholl and Oyesola were a huge part of the reason both of these teams were so evenly matched, both performing in those clutch moments and turning over ball for their respective teams.  It will definitely be worth keeping an eye on both of these teams this season, and I'm already looking forward to the return leg to see who comes out on top.
Leeds Rhinos
Amy Clinton 34/37 (92%) Rhea Dixon 4/9 (44%) Brie Grierson 9/12 (75%) TOTAL: 45/57 (79%)
Feeds: 74 (Clarke 28) Penalties: 56 (Oyesola 13)
Strathclyde Sirens 
Niamh McCall 23/28 (82%) Bethan Goodwin 20/24 (83%) TOTAL 43/52 (83%)
Feeds: 56 (Abernethy 31) Penalties: 37 (Nicholl 10)
---
MANCHESTER THUNDER 76 def SURREY STORM 68
By Eve Cobbett
It was a game that should, according to last year's results, have been a blow-out. And yet Manchester Thunder vs Surrey Storm ended up being one of the most exciting, and most likely highest scoring, games of the season thus far. Nat Metcalf was back for Thunder, recovered from a knee injury sustained at the Quad Series, however Kerry Almond missed out due to injury, meaning Thunder were left with a star-studded attacking front line but depleted and inexperienced defensive end. Surrey Storm also made key changes, Chartie Curtis coming into Wing Defence to replace Niamh Cooper. Quarter one went goal for goal, eventually ending 19-14. The first quarter showed that this was going to be an attacking game, each team scoring with relative ease due to little-to-no defensive pressure at either end. Proscovia Peace and Joyce Mvula, both at Goal Shooter for Storm and Thunder respectively, played in incredibly similar ways – holding the back space and receiving high and long balls over the top of Millie Sanders and Alima Priest.
Whilst the athleticism and strength shown by both Peace and Mvula was impressive, I was left wondering what happens to these two teams when they come up against defensive ends who apply more arms-over pressure, and goal keepers more willing to come out hunting for ball early? The second quarter carried on much the same as the first, Storm coming back at Thunder to level the score 34-all after 30 minutes. The game became more physical in quarter 2, plenty of late and niggly contacts occurring all over the court and in particular Leah Middleton and Ellie Cardwell's match up becoming increasingly more interesting the more Middleton got in Cardwell's head. Thunder's defence continued to struggle to contain Peace, with Yasmin Parsons also getting the better of Laura Malcolm out at Wing Attack. Quarter two continued to go end-to-end due to the lack of defensive pressure from either side. The second half saw Thunder turn up the intensity, however, the score at the end of quarter three sitting at 54-49 and finishing after 60 minutes 76-68 in Thunder's favour.
Thunder managed to pull away in the second half due to increased defensive pressure, Yomi Eza-Wilson coming out of the circle more and successfully pressuring Storm's attack into fumbling the ball. On a positive note for Storm, however, Sophie Kelly entered the game in quarter 3 seamlessly, demonstrating an already strong and natural connection with Peace.  Whilst Storm eventually lost this game, there was much to be admired about how they played, especially given their lacklustre performances last season. In the past we have seen a lack of connections across the court for Storm, however that seems to have changed, each Storm unit now understanding each other better with play flowing far easier than it used to. Although it was impressive to see such a high scoring game, you can't help but be concerned at how many goals both Storm and Thunder let in, and suspect they may struggle against teams with more prolific defensive ends.
Manchester Thunder
Joyce Mvula 50/56 (89%) Ellie Cardwell 26/30 (87%) TOTAL 76/86 (88%)
Feeds: 64 (Metcalf 26) Gains: 11 (Sanders 4) Penalties: 37 (Sanders 14)
Surrey Storm
Proscovia Peace 62/63 (98%) Sophie Kelly 4/5 (80%) Emma Magee 2/4 (50%) TOTAL 68/72 (94%)
Feeds: 44 (Parsons 19) Gains: 7 (Middleton 4) Penalties: 33 (Middleton 14)
Player of the Match: Ellie Cardwell (Thunder)
---
LOUGHBOROUGH LIGHTNING 65 def CELTIC DRAGONS 37 
Loughborough Lightning
Mary Cholhok 38/46 (83%) Ella Clark 18/21 (86%) Emma Thacker 9/11 (82%) TOTAL 65/78 (83%)
Feeds: 41 (Joseph 21) Gains: 15 (Harvey 5) Penalties: 33 (Cobden 7)
Celtic Dragons
Georgia Rowe 20/21 (95%) Lefebre Rademan 16/24 (67%) Phillipa Yarranton 1/2 (50%) TOTAL 37/47 (79%)
Feeds: 24 (Rademan 8) Gains: 12 (Roddy 7) Penalties: 43 (Roddy 10)
---
WASPS 54 def SEVERN STARS 45 
Wasps
Rachel Dunn 40/41 (98%) Lucy Parize 14/20 (70%) TOTAL 54/61 (89%)
Feeds: 48 (Christian 23) Gains: 10 (Powell-Davies 4) Penalties: 53 (Powell-Davies 17)
Severn Stars
Issy Eaton 17/18 (94%) Paige Reed 15/19 (79%) Katie Harris 13/16 (81%) TOTAL 45/53 (85%)
Feeds: 46 (Leota 20) Gains: 14 (Herdman 4) Penalties: 66 (Bolakoro 14)
---
TEAM BATH 67 def LEEDS RHINOS 47
Team Bath
Kim Borger 44/47 (94%) Sophie Drakeford-Lewis 23/25 (92%) TOTAL 67/72 (93%)
Feeds: 51 (Harris 18) Gains: 25 (Pavelin 10) Penalties: 41 (Pavelin 14)
Leeds Rhinos
Amy Clinton 24/30 (75%) Sienna Rushton 9/11 (82%) Rhea Dixon 9/11 (82%) Brie Grierson 5/6 (83%) TOTAL 47/58 (81%)
Feeds: 44 (Grierson 19) Gains: 6 (Airey 4) Penalties: 50 (Oyesola 14) 
Player of the Match: Imogen Allison (Bath)
---
Hear from the players and coaches via our friends at The Netball Show
---
Ladder:
(Team . Pld .  Pts . +/-)
Thunder . 3 . 9 . +59
Mavericks . 3 . 9 . +18
Lightning . 2 . 6 . +39
Bath . 3 . 6 . +30
—
Wasps . 3 . 3 . -6
Pulse . 3 . 3 . -9
Sirens . 3 . 3 . -10
Rhinos . 2 . 3 . -18
Stars . 3 . 3 . -25
Storm . 2 . 0 . -17
Dragons . 3 . 0 . -61
---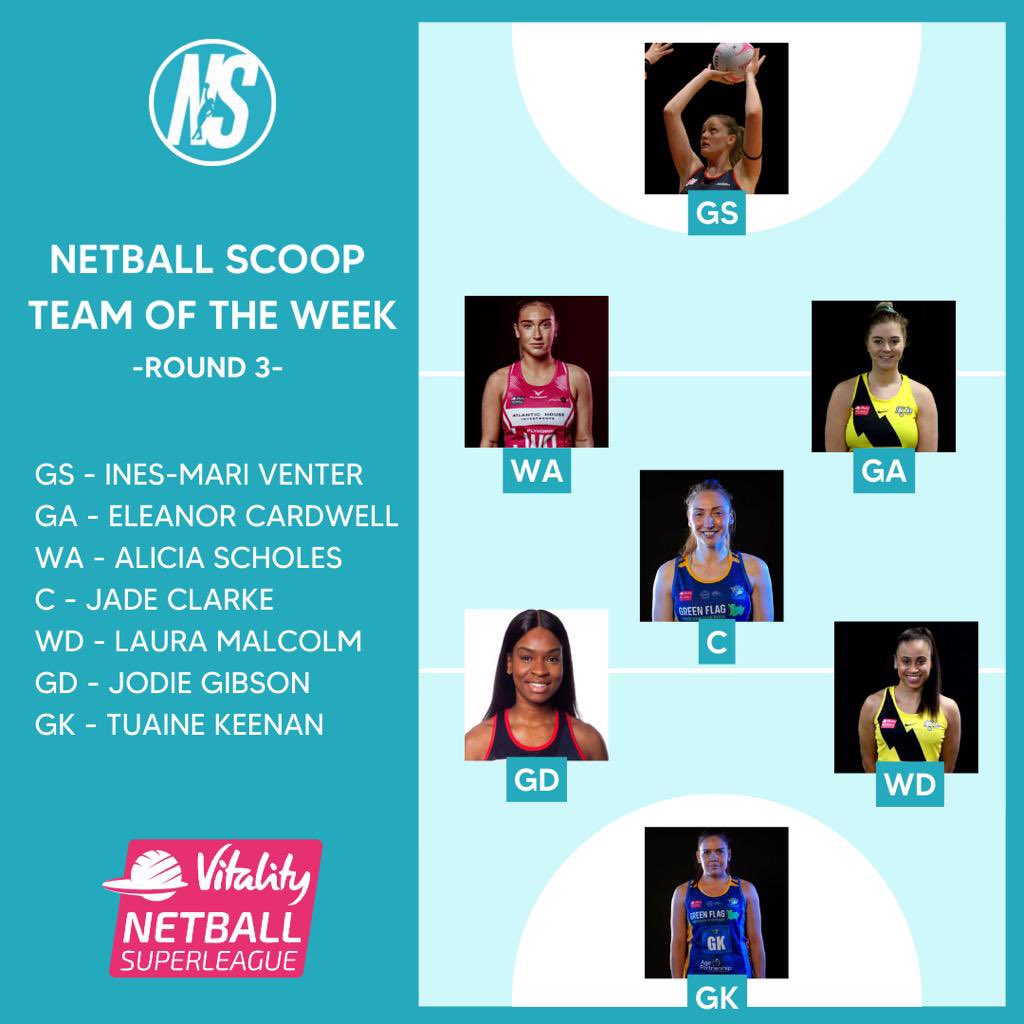 Looking ahead to Round 4:
Round four is set to be another cracker with some huge match ups and three more streamed matches. Team Bath will be hoping to welcome back a number of their squad who were unavailable for selection in Round 3 through injury and illness, with Surrey Storm also announcing the return of defensive favourite Felisitus Kwangwa. Dragons will be looking to secure their first win of the season against Leeds Rhinos as they play their first home match and Mavericks will be looking to continue their unbeaten record, taking on Severn Stars on Sunday. It will be a huge Monday night of netball with Sirens hosting Manchester Thunder, a real tough problem to solve defensively for Sirens, with Thunder having already notched up an incredible number of goals after only three rounds. Pulse will take on Wasps at the Copper Box Arena and will need to put out a much stronger start than in Round 3. Storm will finish Round 4 against Lightning, hosting their first home match of the season.
Fri 7:30pm – Bath v Storm (Sky/Youtube)
Sat 4pm – Dragons v Rhinos
Sun 3pm – Stars v Mavericks (Sky/Youtube)
Mon 5:30pm – Sirens v Thunder (Sky) 7pm – Pulse v Wasps  7:30pm – Storm v Lightning